A quick and easy pickle for Taco Tuesday!
Avocados are delicious, but they cause a lot of frustration - it's so hard to buy one that's perfectly ripe and ready to eat. Most of the time they're hard as a rock. They sit on the counter for days, then turn ripe for about 3 minutes and then they're past their prime (>_<)
If you've got a couple of avocados hanging on your counter, and they're not ripe yet, you can actually use them to make a yummy pickle - a perfect addition to your Taco Tuesday menu, and they only take 15 minutes to make!
Avocado Pickles
Recipe courtesy of : https://www.thekitchn.com/reci...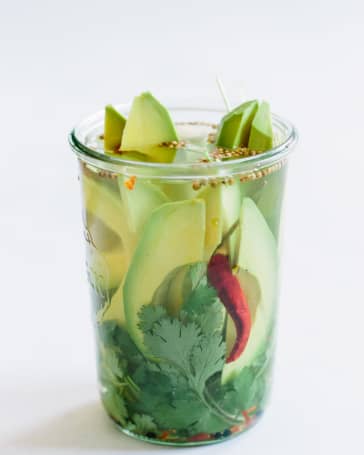 YIELD: Serves 2 to 6 PREP TIME: 10 minutes COOK TIME: 5 minutes
INGREDIENTS
1 cup distilled white vinegar or rice wine vinegar
1 cup water
1/2 cup granulated sugar
1 tablespoon kosher salt
1/2 teaspoon whole black peppercorns
1/2 teaspoon red pepper flakes
2 firm avocados
Optional flavoring ingredients:
Garlic
Mustard seeds
Coriander seeds
Caraway seeds
Fresh herbs
INSTRUCTIONS
Place the vinegar, water, sugar, salt, peppercorns, red pepper flakes, and any additional flavoring ingredients in a medium saucepan. Bring to a boil, stirring occasionally to dissolve the sugar and salt. Remove the pan from the heat and let cool to room temperature.
Meanwhile, prepare the avocados. Peel and pit the avocados, then cut into 1/2-inch-wide slices or cubes. Place them in 2 (18-ounce or larger) canning jars. Pour the cooled brining liquid into the jars, completely covering the avocado pieces, and seal the jars. Refrigerate for at least 2 hours before serving.
RECIPE NOTES
Storage: Store pickled avocados in the refrigerator for up to 1 week.