Back to Events
Buxton 100th Anniversary Homecoming & Parade
---
Various Locations |
DATE: Sep 1 to 4
TIME: 12:00 PM - 11:00 PM
Residents from Chatham Kent and tourists from across Ontario and the US mid-west will attend the many activities: the Annual History & Genealogy Conference; the Party in the Park (dance); the Family Feud softball tournament; historical re-enactments; Car Show; live entertainment showcasing local artists and street performers; museum tours; children's activities; special church services and lots of reunion hugs.
Buxton expects four to five thousand visitors for the 100th Annual Buxton Homecoming Celebration.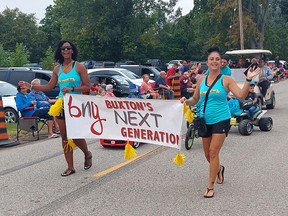 Photo Courtesy of. Ellwood Shreve/Postmedia
Stay tuned for details and continue to check the website for updates
And follow, like, and share the event on Facebook with your friends and family.